JACCU is looking for a Marketing Assistant
JACCU, the Stichting Japanese Art & Culture Centre of Utrecht is a non-profit cultural organisation based in the city of Utrecht. We offer a centre for gathering, practice, research and continuous learning. We welcome both Japanese and non-Japanese alike to indulge their interests in the art & culture related to Japan.
Our mission is to unite and support the organisations, initiatives, artists and practitioners who are representing and nourishing Japanese art and culture in the Netherlands and around. We partner up with local organisations and individuals. Together we co-organise and facilitate language courses, training in various martial arts, traditional arts & craft workshops and many other socially-engaged activities. We aim to provide a rich and high-quality cultural offering under one roof to enrich the cultural climate of Utrecht and the Netherlands.
Marketing Assistant (4-6 hrs per week)
JACCU is active in Utrecht and the Netherlands with a wide network following our website, newsletters, social media accounts such as LinkedIn, Facebook, Instagram, YouTube and more. We are also aiming to be more visible in Europe and Japan.
As a marketing assistant, you will be supporting our marketing director in executing and our entire marketing & communications strategy.
Responsibilities
Support the execution of comprehensive marketing and communication strategies to create awareness of JACCU
General support for the organisation of promotional events, building a brand identity, and providing assistance to our team of online content editors
Support in the creation (update and expansion) of database, support in the creation -and possibly translation- of press and promotional materials, mediaplan, digital and offline content for JACCU's channels
Provide support to our Marketing Director and other JACCU team members who create content for the website, LinkedIn, Instagram, Facebook and YouTube
Provide operational support for social media advertising, Google Analytics, SEA and SEO optimization
Generate ideas for content creation
Assist with creation and design of giveaway materials proactively
Help Marketing Deptartment in the promotion of JACCU, including relevant events, festivals, concerts, workshops, etc.
Attend online and on location meetings, visit the Utrecht office when required.
Requirements
Interest in the Dutch cultural sector and marketing trends
Genuine interest in Japan and Japanese art and culture
Some experience in a similar position, preferably in the art and culture field but not essential
Excellent communication skills, attention to detail,

reliable and willing to learn and blend in a multicultural team

Excellent command in English,

possibly native knowledge of Dutch, reading Japanese is a plus
What we offer
JACCU, the Stichting Japanese Art & Culture Centre of Utrecht is a new cultural initiative in Utrecht. We are offering a volunteer position in this fresh initiative where you can contribute to inspiring artistic projects and enthusing cultural events. You will have the chance to understand how an arts centre works and operates in its community and you will be able to learn most of the aspects that involve a marketing and communications office, working closely with our Marketing Director. Our aim is to grow into a big culture house with a good reputation in the Netherlands, Europe and Japan.
You will work with a close-knit group of Japan enthusiasts from versatile backgrounds. Currently, JACCU team consists of volunteered professionals and amateurs. Everyone in our team is extremely motivated and committed to making it a success. We are expecting you to invest circa 4 hours a week for this initiative to make it grow into the biggest Japanese art and culture centre of Europe!
Application
If you are interested in this position, please apply with a motivation letter and CV by sending an email to info@jaccu.nl, stating your earliest possible availability. You can ask for more information about the vacancy through the same address or by calling Taciser Sevinc on +31621675158.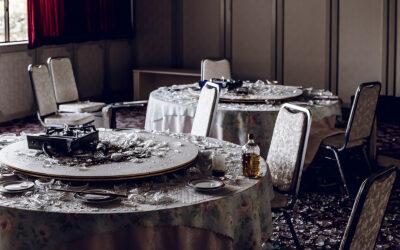 Dutch photographer Maan Limburg calls for Japanese people to discuss with her the abandoned houses of Japan for her new photobook.